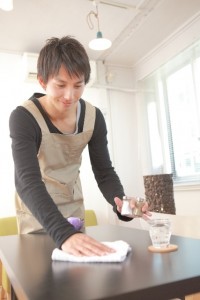 When a foreign national intends to work part time or engage in other activities than permitted under the status of residence, it is necessary to obtain permission (Permission to Engage in an Activity Other Than That Permitted Under the Status of Residence Previously Granted)  in advance.
There are two types of permissions.
1. Name, location to work and details of the duties are designated separately
2. Details of the duties are not designated and with the condition that work hours are to be under 28 hours a week and no entertainment business is operated at the work place (comprehensive permission)
Comprehensive permission may be granted to a foreign resident with the resident statuses of
1. "Student"
2. "Dependent" >> see also : Spouse or Child of Japanese National
3. "Designated Activity for the purpose of continuing job-hunting" where a foreign national has graduated from a Japanese university or advanced vocational school.
A residence card issued on or after July 9, 2012 states on its back when the permission is granted.
>> ask us for more details or assistance
For the inquiry or to book a consultation, please
・ use contact form
・ email us at contact@fellows-legal.jp


・ call us at

03-3461-2761

(from overseas +81-3-3461-2761)
Business hours : Monday to Friday 10:00am ~ 7:00pm
Meetings out of business hours or weekends are available by appointment