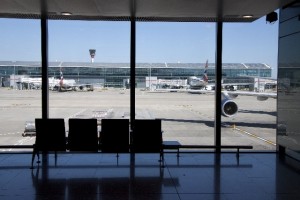 Special (minashi) re-entry permit
Foreign nationals in possession of a valid passport and residence card who will be re-entering Japan within 1 year of their departure to continue their activities in Japan will not be required to apply for a re-entry permit.
At the airport when you leave Japan, make sure to present your residence card and tick the box indicating your intention of departure by the Special Re-entry Permit System on ED card for Special Re-entry Permit.
Sample ED card (from the website of Immigration Bureau of Japan)
●  Tick box #2 to indicate you will leave under Special Re-entry Permit.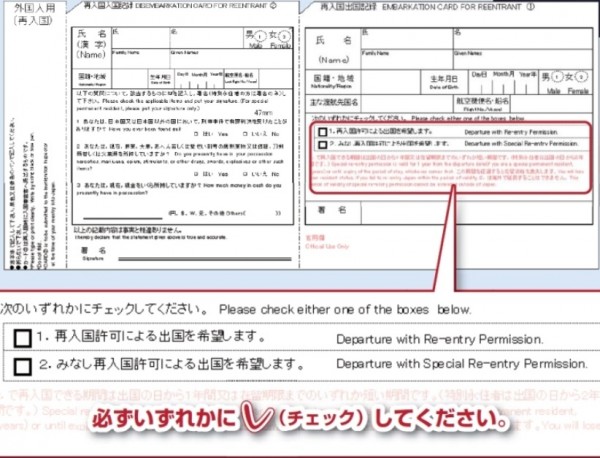 Validity of the permit is 1 year but until the expiration date of the period of stay.
You must be back to Japan before expiry date. You may not extend period of stay while you are outside Japan.
Foreign nationals who fall under below are NOT eligible to special re-entry system and need to obtain ordinary re-entry permit.
1. for whom a period of stay for three months or less has been decided on
2. who is staying in Japan with the "Temporary Visitor" status
3. whose status of residence is under procedures for revocation
4. for whom confirmation of departure is being deferred
5. for whom a written detention order has been issued
6. who stays in Japan with the status of residence for "Designated Activities" while applying for recognition of refugee status
7. who is specified by the Minister of Justice to be a threat to Japan's national interests or public order, or for other good reasons to be in need of a re-entry permit for the sake of fair control of entries and departures.
>> ask us for more details or assistance

Re-entry permit (ordinary)
When a foreign national residing in Japan temporarily leaves Japan and intends to re-enter Japan, re-entry permit must be obtained before departure.

Without the permit, the status of residence and period of stay shall lapse and thus a foreign national needs to newly obtain a visa prior to the re-entry.

There are two types of re-entry permit:
1. Permit that is valid only once
2. Multiple re-entry permit that can be used multiple times until the expiration date.
The period of validity for re-entry permit shall be determined within the current permitted period of stay for up to five years (or six years for special permanent residents).
Where to apply : At the regional immigration bureau that has the jurisdiction over the foreign resident's domicile 

For the inquiry or to book a consultation, please
・ use contact form
・ email us at contact@fellows-legal.jp


・ call us at

03-3461-2761

(from overseas +81-3-3461-2761)
Business hours : Monday to Friday 10:00am ~ 7:00pm
Meetings out of business hours or weekends are available by appointment