In order to apply for a visa to work, study or live in Japan, it is usual practice to obtain Certificate of Eligibility to speed up visa issuing process.

Certificate of Eligibility is issued when the Immigration Bureau determines if the intended activities of an applicant correspond to the conditions of the visa. With the certificate, visa will be issued promptly as the conditions for entry to and residence in Japan are deemed satisfied.
To obtain Certificate of Eligibility,  you are required to have a sponsor in Japan (employer, school, spouse, relative etc.).  For example, if you want to work in Japan, you need a job offer to apply for certificate of eligibility to obtain work visa.
The sponsor or its proxy is to apply for your certificate at the Immigration Office in Japan on behalf of you.  When the certificate is issued, you may apply for a visa with the required documents at your local Japanese embassy or consulate.
Certificate of Eligibility (COE) Flowchart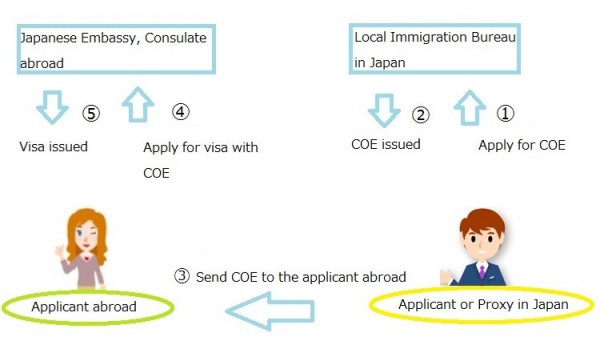 Typical cases where certificate of eligibility is to be requested :

1.  To hire a foreign staff (cook, interpreter, IT specialist, etc.) from overseas
2.  To invite aged mother or father from home country
3.  To invite a spouse or children as dependent
4.  To start working or to study in Japan

● It usually takes 1~3 months to assess and issue the certificate by the Immigration office in Japan.  Therefore, your sponsor in Japan should apply for a Certificate of Eligibility well in advance.

● Validity of the certificate is 3 months from the issuance.
Applicant must arrive in Japan within the validity period.  If he/she fails to do so, a new certificate must be obtained.
● Certificate of Eligibility itself is not a visa, nor is it a guarantee that Japanese embassy or consulate issue a visa.
● The Certificate does not always guarantee your entering Japan. You might be denied landing Japan if you fail to satisfy the landing permission standards.
● This system does not cover temporary visitor visas.
>> ask us for more details or assistance
For the inquiry or to book a consultation, please
・ use contact form
・ email us at contact@fellows-legal.jp


・ call us at

03-3461-2761

(from overseas +81-3-3461-2761)
Business hours : Monday to Friday 10:00am ~ 7:00pm
Meetings out of business hours or weekends are available by appointment