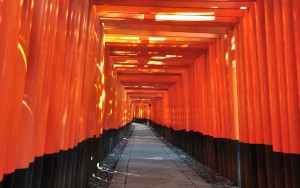 Visa and Status of Residence 
Above terms are often confused.  In particular "visa" is commonly used to represent meaning of "status of residence". Here is the difference between the two. 
Visa is a kind of recommendation given to a foreign person to enter Japan.  What visa certifies are that the passport is valid and that the the passport holder conforms to the conditions for landing Japan within the scope of that visa.

Above visa requirement does not apply to entry by nationals of countries with which Japan has reciprocal visa exemption arrangements for temporary visitor or to entry by foreign nationals having re-entry permission. 
Status of residence is the grounds on which a foreign national is permitted to stay in Japan;
it is a qualification enabling the foreign national to carry out the activities stipulated in the Immigration Control and Refugee Recognition Act and to reside in Japan for the purpose of carrying out those particular activities.
If you want to study, work or live in Japan,  you must be granted a status of residence appropreate to the aiming activities.

There are 33 different types of qualifications depending on the activities in Japan.
If you are living outside Japan and thinking of staying in Japan mid to long term, it is recommended that you obtain Certificate of Eligibility to speed up visa processing and landing to Japan.
see also >> Certificate of Eligibility

The scope of activities in which a foreign national may engage during his/her stay in Japan is determined according to his/her status of residence. Except where a Permit to Engage in an Activity Other Than That Permitted by the Status of Residence is obtained, the foreign national must not, in principle, engage in income generating activities.